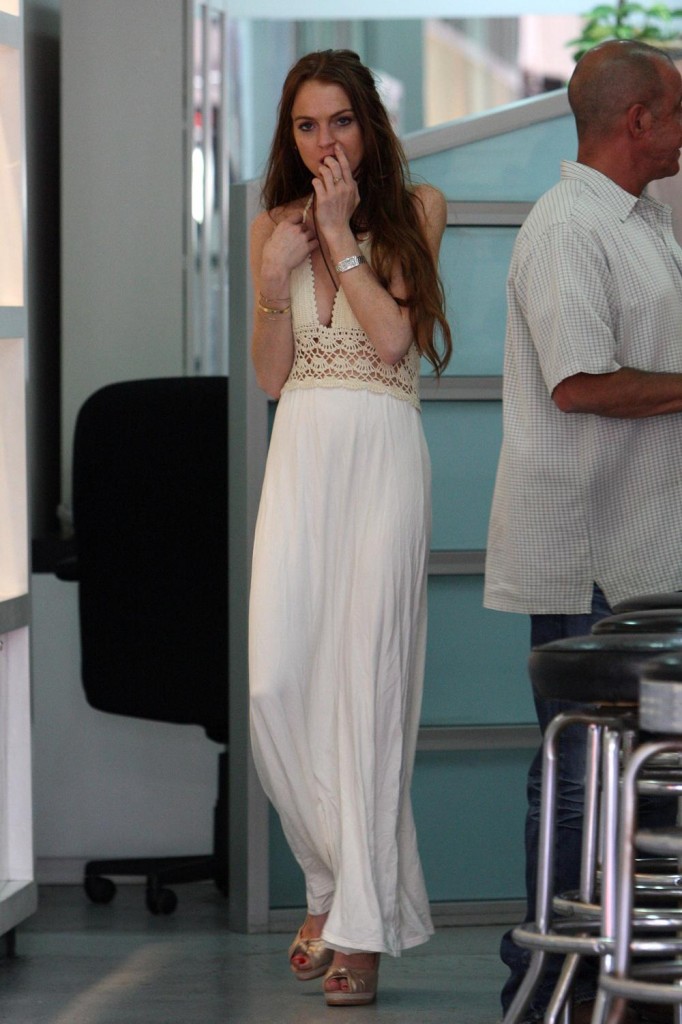 Lindsay Lohan really is wasting away. People started whispering about her weight 15 or 20 pounds ago, and in the last two or three weeks the actress has lost significantly more weight. Earlier this week shocking photos came out of Lohan in a long, flowing dress, in which you can count her ribs. Fox's Pop Tarts talked to doctors who estimate that Lohan, at 5'5, should weigh between 120 – 130 lbs, but is likely clocking in at just 95. That Olsen twin territory – and Lindsay's got four inches on them.
Lindsay Lohan's fragile frame has been a cause of concern for quite some time now, however photographs of the actress shopping in Los Angeles this week seem to have taken the term "scary skinny" to whole new level. Donning a low-cut strapless dress, the 22-year-old flashed a little skin … and a lot of bone.

According to Dr. Kent Holtorf, Director of the Holtorf Medical Group in Los Angeles (who does not treat Lohan) the 5'5" starlet weighs around 95-100lbs with a Body Mass Index (BMI) of less than 16. But in order to be considered "healthy" she should be at least 113-149lbs with a BMI of 18-25.

"There are signs of muscle wastage, clearly her bones are protruding and she looks quite rigid," Holtorf told Tarts. "She looks like skin and bones at this point, Lindsay clearly looks malnourished and unhealthy for her frame." Hollywood clinical psychologist and psychotherapist, Dr. James E. Walton, agreed that Lohan is "floating at 100 pounds" and is setting a bad example to young girls who look up to the "Mean Girls" actress.

"She seems to have no reserves, a little fat is very good because it gives us a reserve to fight off illness and repair injuries," Walton explained. " It has to be affecting her energy level a bit. It also cushions us against injuries, those low fat levels indicate a possible vitamin and mineral deficiency and can throw off proper hormone balances. She should weigh between 120 and 130 for healthy weight at her height … Ok, for Hollywood, no lighter than 115 for her height. But that's only for Hollywood and the camera."

A rep for Lohan did not respond for comment.
[From Fox News' Pop Tarts]
A while ago Kaiser mentioned that she hates it when doctors who've never treated a celebrity publicly diagnose them with something – and I completely agree. But in Lindsay's case, it doesn't seem that hard for a doctor to approximate her weight if he knows her height and can look at pictures of her. The way she has shrunk over the last few months is incredibly disturbing – but what's more upsetting is that no one has helped her. Dina Lohan kept making ridiculous excuses about how Lindsay was stressed and she told her to eat more McDonalds. No quarter pounder is going to help LiLo's weight at this point – unless she's standing on a scale with a hundred of them.
Obviously this is way beyond the point of "just stress." Lindsay might have an eating disorder; but it's just as likely she's got a drug problem. Probably more likely. She keeps talking about how she wants to get her career back on track but studios are afraid to work with her because of her past and all the bad rumors they're hearing. Frankly, I'd bet their trepidation comes just as much from Lohan's physical appearance. They know something's wrong with her, whether it's a lack of food or an excess of drugs. Either one, coupled with her history, is going to keep her from working.